Every bottle of Alliant Smokeless Powder is guaranteed by a century of manufacturing experience and the industry's most stringent quality control systems. To maintain uniformity, the chemical composition, grain shape and size, and overall density are continually verified and evaluated in a ballistics lab.
Alliant Promo Powder has the same burn speed as Red Dot but is denser, needing a smaller bushing to get the same charge weight. It effortlessly meters and charges on a constant basis. It's best suited for 12 gauge loads, but it can also be utilized in some handgun loads.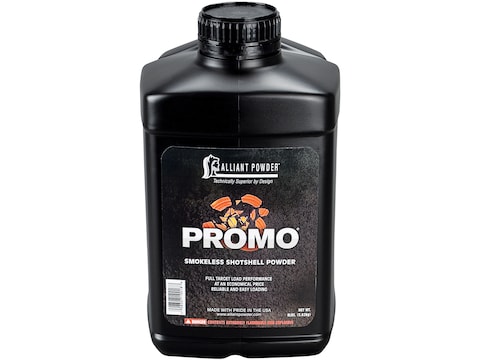 Warnings from the Manufacturer:
Do not exceed the loads displayed in the reloaders guide.
Never mix any two powders regardless of type, brand, or source.
Never substitute any smokeless powder for Black Powder or any Black Powder substitute.